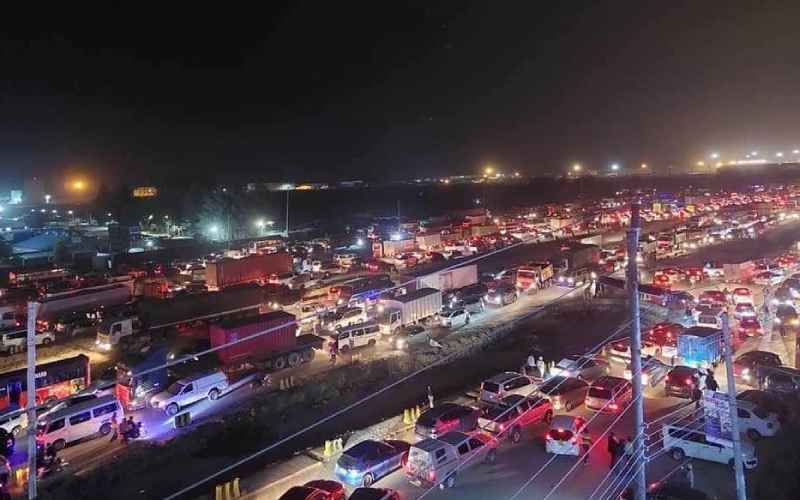 Imagine commencing a 40-minute drive at 8pm only to get home two hours past midnight.
That is the situation of Alex Kazambi, and hundreds of other motorists plying the Nairobi-Mombasa Road route on Saturday, July 3, night.
Kazambi told The Standard via a phone call, how he left his sister's South C residence for his Machakos home a few minutes past 2000 hours only to get home at quarter past two.
"All was well until I got to Cabanas area and we could not move. The snarl-up stretched way ahead and behind us. We were there for more than three hours," he remarked.
Pictures and videos on social media showed kilometres of queued vehicles along the highway, which is also under construction.
From trailers to tractors and trucks, to public service vehicles, cooperate vehicles to personal rides. None was left out.
Others opted to park their vehicles on the roads while others left their vehicles and went home using alternative modes of transport.
Kerubo Rita tweeted, "I got home yesterday at 2 am, I haven't been able to sleep and today I need to be at work at 8 am,".
Augustine Nthumbi, Nairobi County Police Commander confirmed the traffic snarl-up attributing it to a hit and run accident around the Mlolongo area.
"One person was hit and the driver ran away. The jam builds up as the officers were processing the scene and removing the body," Nthimbi said.
 The County law enforcer said the traffic jam, that affected hundreds of motorists, took about three hours to be cleared and normalcy was restored on the road.
However, Nthumbi has warned motorists against overlapping on the roads, adding last night's incident was worsened by the vice, which is common on Kenyan roads.
Police reports indicate that one person died in the few minutes to 8pm accident, which affected traffic flow in Nairobi and Machakos counties.
The body of the deceased was moved to the City mortuary awaiting post-mortem as investigations are underway.
Monitor water pumps remotely via your phone
Tracking and monitoring motor vehicles is not new to Kenyans. Competition to install affordable tracking devices is fierce but essential for fleet managers who receive reports online and track vehicles from the comfort of their desk.