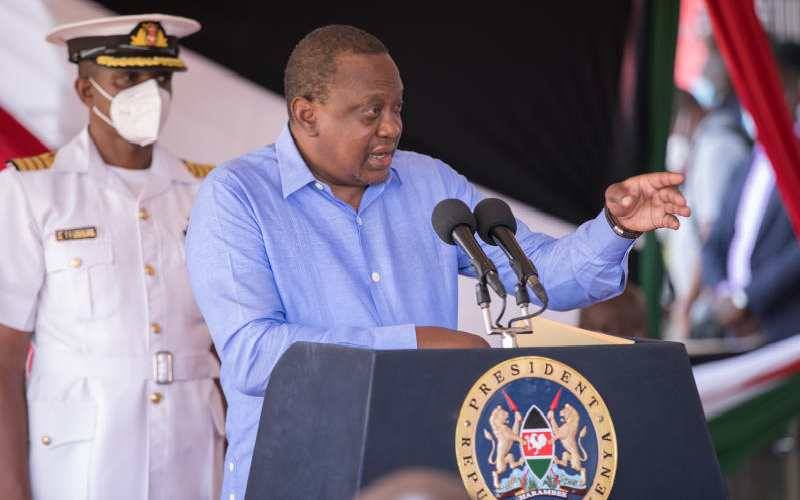 President Uhuru Kenyatta has told off critics of the viability and success of government-run projects.
While launching the first berth of the Lamu Port on Thursday, May 20, the Head of State said that those in doubt of the project's functionality will be put to shame once the operations of the port kick-off successfully.
He said the project would stimulate economic growth in the region if implemented according to plan.
"Some 'doubting Thomases' questioned the project's viability wondering whether it will ever be built. They can stop wondering," the President said.
As he commissioned the first phase of Lamu port operations, the Commander in chief said that the second berth will start operations in July and the third in October this year.
He added that the second berth that is only two months away from starting its operations, will connect Kenya to the Northern Corridor; South Sudan and Ethiopia.
This he went on to say, was a way of positioning the country strategically for economic growth.
Construction of the Lamu Port began in December 2016 with the dredging works on the three berths.
Take a quick survey and help us improve our website!
The first berth was completed in August 2019 while the second and third were done by December 2020.
The construction of the three berths cost about sh40 billion and is aimed at giving rise to the country's blue economy.
In 2012, Retired President Mwai Kibaki together with South Sudan's Salva Kiir, the then Ethiopian Prime minister the late Meles Zenawi and Uganda's Yoweri Museveni laid the project's foundation.
Experts say the project which is part of the Lamu Port South Sudan Transport (Lapsset) would make Kenya a commercial and transport hub.
The idea was birthed in 1972 then went under for 49 years after maritime consultants raised questions of its viability.
The idea was then revived in 2018 after consultative talks with the experts that saw the first two ships dock at the port today.