The Nairobi Metropolitan Services (NMS) has issued a notice ro all building owners in Nairobi County to re-paint their building within 60 days.
"Colours to be applied shall be as originally approved and any changes to the same must be approved by Nairobi Metropolitan Services prior to applying," said NMS.
NMS says building owners who will not be compliant by the expiry of the notice will be liable to prosecution under relevat sections of the Public Health Act.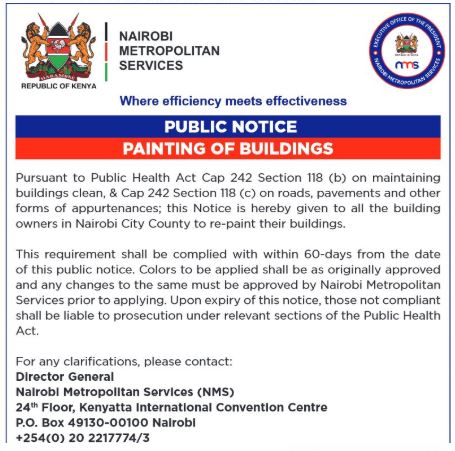 SEE ALSO: Sonko, Badi lock horns over mayor's residence
This is in line with the Public Health Act Cap 242 Section 118 (b) on maintaining the cleanliness of building and Section 118 (c) on roads, pavements and other forms of appurtenances. Which states:
"The following shall be deemed to be nuisances liable to be dealt with in the manner provided. (b) Any dwelling or premises or part thereof which is or are of such construction or in such a state or so situated or so dirty or so verminous as to be, in the opinion of the medical officer of health, injurious or dangerous to health, or which is or are liable to favour the spread of any infectious disease."
"(c) any street, road or any part thereof, any stream, pool, ditch, gutter, watercourse, sink, water-tank, cistern, water-closet, earth-closet, privy, urinal, cesspool, soak-away pit, septic tank, cesspit, soil-pipe, waste-pipe, drain, sewer, garbage receptacle, dust-bin, dung-pit, refuse-pit, slop-tank, ash-pit or manure heap so foul or in such a state or so situated or constructed as in the opinion of the medical officer of health to be offensive or to be injurious or dangerous to health."