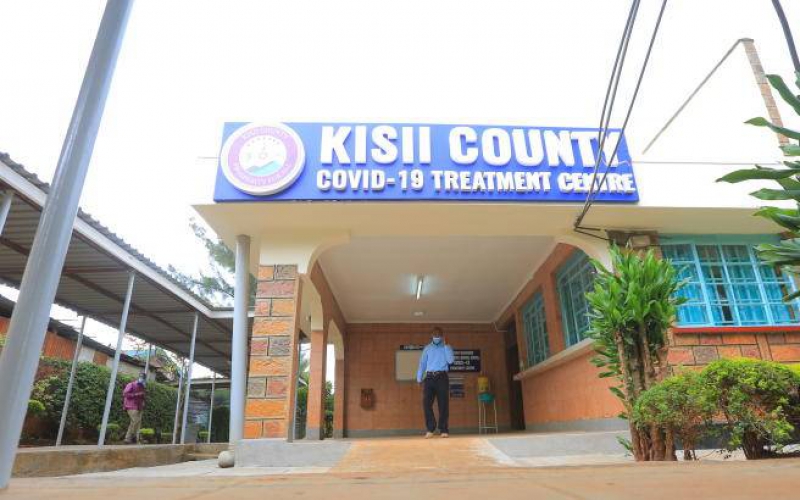 A 32-year-old nurse from Rachuonyo Sub-County in Homabay who had tested positive for the coronavirus has given birth to a baby boy while under the Intensive Care Unit at Kisii Teaching and Referral Hospital Isolation Centre.
The nurse who has been put under oxygen for the last one week had a normal delivery on Friday night, a day after she had signed consent to undergo a cesarean section.
Doctors at the Kisii Teaching and Referral Hospital (KTRH) led by the facility's Chief Executive Officer Dr Enock Ondari and the head of Clinical Services Dr Bina Ongaki had spent the better part of Friday pondering on the next move to save the mother and her baby.
The husband who is a contact has been allowed to visit his wife at the isolation centre though on strict adherence to Covid-19 guidelines and protocols.
SEE ALSO: Education to suffer as donor funding drops due to corona
Speaking to the Standard on phone, the husband said he had to visit the wife to offer her moral support. "I went in with the doctors dressed in the full Personal Protective Equipment. I saw my baby through the incubator."
"In an otherwise non-Covid environment, I would be with my wife and the newborn, I could be holding the baby, it is tough but I thank the doctors at the hospital for the work they have done," the husband said.
He also underwent the Covid-19 test and turned negative. "We wedded late last year and like anybody else have been under anxiety for the last one week."
The patient had been moved from the hospital's Intensive Care Unit (ICU) to the High Dependency Unit and later to the Covid-19 isolation centre last week Monday when her results turned positive.
She had been transferred from Rachuonyo Sub-County Hospital to KTRH for ICU management eight days ago after she complained of difficulty in breathing and chest pains.
SEE ALSO: Hold it, it's not yet time for the swing
The patient had the initial test for Covid-19 done on Friday 17 which turned negative. The sample was collected at Rachuonyo. 
On Sunday last week, the Kisii team did their own sample collection for a second Covid-19 test, which turned positive the following day.
According to the KTRH administration, the medic has had fluctuating saturation of between 80 and 90 ever since her admission.
Dr Enock Ondari, the hospital Chief Executive said they had to weigh on several options before she finally gave birth.  "Covid-19 is new to all of us and we can't predict the end result of such a case."
"The baby and the mother are doing well. They are all stable. We are doing 24-our monitoring on the tow," said Dr Ondari.
SEE ALSO: Equity donates Sh85m to nurses
On the day she gave birth to her firstborn baby, doctors had decided to give the woman an emergency C-section to save both her and the child.
Some 15 medics; 13 nurses, one doctor, one sonographer and two subordinates who had attended to the patient on the day she was admitted to KTRH have also been put on self-quarantine. 
With the increase in coronavirus cases in the country, access to safe health care has been a challenge to both those seeking the services and health care providers. 
Kenya's ministry of health in the last week announced that 257 health care workers had tested positive. 
Two weeks ago, Kenya buried the first doctor to succumb to the ailment. Since the pandemic hit Kenya in March.
The country's doctors and the nurses' union have threatened several times to go on strike, saying the government is not doing enough to provide protective gear to health care workers on the coronavirus front lines, especially in public health facilities. 
Speaking on phone, the Kenya National Union of Nurse's chairman, Alfred Obengo called on County Governments to show commitment in caring for the health workers and preparedness to combat Covid-19.
"Action speaks louder than words. Too much sweet words yet no meaningful preparedness and commitment. Health workers must be treated with dignity."