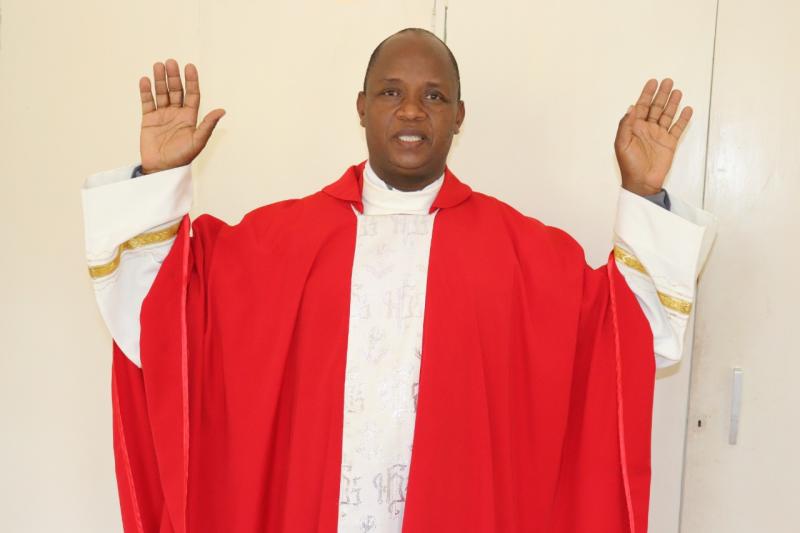 Bishop Joseph Mwongela (
pictured
) will be installed next month as the new head of the Kitui Catholic Diocese, which has not had a substantive bishop for three years.
Since the promotion and transfer of Archbishop Anthony Muheria to the Nyeri Catholic Archdiocese in 2017, Muheria has been the Apostolic Administrator of Kitui Diocese even after taking up his new post.
Bishop Mwongela, 52, is scheduled to be consecrated on August 8 during a ceremony to be held at Saint Charles Lwanga School, his A-Level alma mater on the outskirts of Kitui town. He is currently the Kitui Diocesan Vicar General.
Mwongela was appointed bishop by Pope Francis on March 17 and presented to the priests of the diocese at Kitui's Our Lady of Africa Cathedral by Muheria on March 22.
This was shortly before religious gatherings were stopped by the Government in sweeping measures to slow down the spread of the novel coronavirus.
Muheria was recently appointed to lead the team overseeing the opening of places of worship following the easing of Covid-19-related restrictions.
Mwongela was ordained to the order of diaconate on June 6, 1995 and consequently ordained a priest on July 7, 1996 by the late Archbishop Boniface Lele.
He debuted in his pastoral work in Migwani Parish where he served from November 1996 to July 1997, later moving to Nguni Parish where he remained in the same capacity until February 1998. While at the two parishes, he did part-time teaching at St Joseph's Seminary in Mwingi where he later taught full time between February and December, 1998.
The brief teaching experience came in handy for the youthful priest when in January, 1999, he was seconded to St Patrick's Formation House in Nakuru where he taught seminarians until June 2001.
"I was happy to assist the missionaries who had founded and evangelised our diocese with selflessness and love," said Mwongela.
He left the country for the first time in the year 2000 for a meeting in Ireland, an outing that was to mark the beginning of several missions overseas that he used to solicit support for his home diocese of Kitui.
On the completion of a tour of duty in Nakuru, he was appointed Kitui Diocesan Executive Secretary and Vocations Director from October 2001 to July 2003 by Lele. "This was a good time to reintegrate myself into the diocese and get experience working with our secretariat staff," he said.
This was followed by a five-year sojourn in Rome, Italy for post-graduate studies in theology from July 2003 to May 2008 on the strength of a scholarship awarded by St Patrick's missionaries.
Mwongela says it was an enriching experience that saw him mix with people from all over the world.
"I learnt bits and pieces of their cultures," he recalled. "While in Rome, I enjoyed helping in different parishes within Italy. I also used to visit Ireland, Germany and USA during the summer for pastoral work and research."
Mwongela briefly worked as a chaplain at the Mater Hospital in Nairobi on his return to Kenya in 2008 after which he returned to the Kitui Diocese on appointment as Muthale Parish priest in August 2008.
He was stationed there until January 2014 when he was transferred by Muheria to Our Lady of Africa Cathedral.
Born in Kakumi village, Kitui County in 1968, Mwongela had his early education at Kakumi Primary School between 1976 and 1982. He later proceeded to Saint Matthias Mulumba Secondary School where he sat his O-Level exams in 1986.
He taught briefly at Matinyani Township Secondary School and opted to join a seminary to train as a priest instead of going to university. In what has become his vocational motto, he said of his decision to dedicate his life to God's work thus: "You have seduced me, Lord, and I have let myself be seduced. You have overpowered me. You were the stronger."
The future bishop studied philosophy at St Augustine's Seminary in Bungoma between 1990 and 1991. He later proceeded to St Thomas Aquinas Seminary in Nairobi for a Bachelor of Arts in Theology between 1992 and 1995, the year he was ordained a priest.