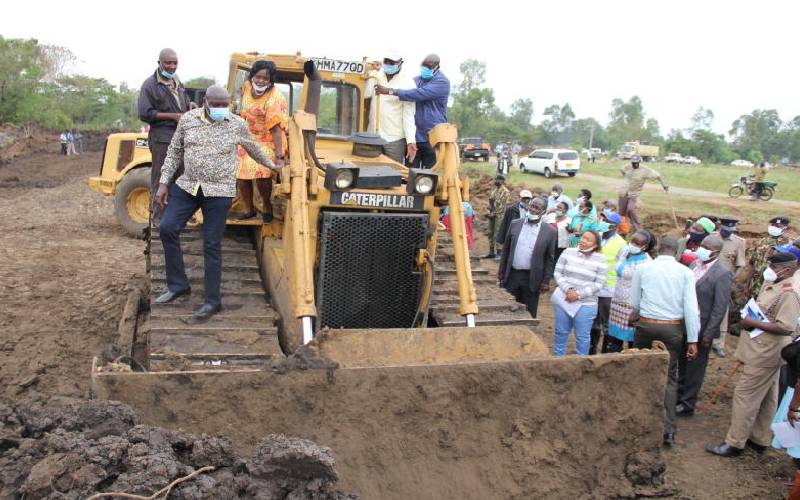 The Government has launched a Sh120 million dyke project to control perennial flooding which has affected more than 400 families in Rangwe, Homa Bay County.
The programme christened Kodhoch Nyangweso Flood Control Project was on Friday started at Nyangweso Village in Rangwe constituency by the National Water Harvesting and Storage Authority along River Awach Tende.
Speaking during the launch of the project, Water and Irrigation CAS Andrew Tuimur said the project will see a 2.4km dyke constructed on parts of the river which are prone to spillage of water which leads to flooding.
Tuimur who was accompanied by Rangwe MP Lilian Gogo and the National Water Harvesting and Storage Authority Chairman Erick Okeyo said the work will take six months to complete.
"Our objective is to end floods which have affected residents of this area for long. We are going to ensure residents start benefiting from this project in December," said Tuimur.
Dr Gogo said the project will enhance crop production in the area.
The MP argued that the perennial floods had impeded farmers' endeavours to grow crops.
"Farmers have been growing crops in the area but the main obstacle has been flooding which erodes and destroy their crops. Controlling the floods will boost their morale in crop production," Gogo said.
The MP said the project once completed will address the perennial floods that had turned locals into beggars yet they are hardworking farmers.
She said the residents have always been relying on relief food during rainy seasons whenever floods displace them and destroy their crops.
"This project will prevent Rangwe residents from relying on relief food when the floods are eradicated," said Gogo.
Fruits of Handshake
The legislator said the project was a fruit of the truce between President Uhuru Kenyatta and ODM leader Raila Odinga.
Okeyo said his department will ensure excess water in the river is utilised without any wastage.
"We also want residents to use water from this river in a manner that will transform their lives. This harmful impact of water will end in the next six months," said Okeyo.
He urged residents to focus their effort in farming to enhance food security in the area.
Okeyo said they decided to undertake the project after receiving complaints from the area residents through the area MP.
Area residents expressed optimism that the project will transform their lives.