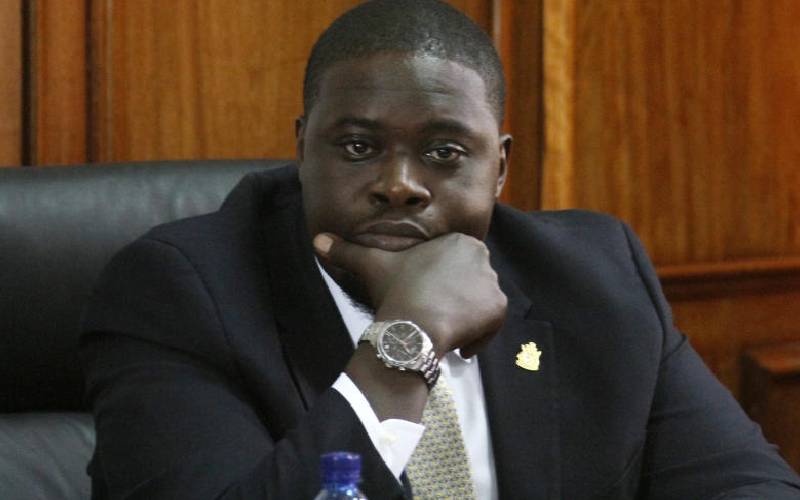 Nairobi Senator Johnson Sakaja and three others were arrested on Saturday morning while drinking during curfew hours.
Sakaja (
pictured
) and other unidentified revellers were found partying at around 1am at Ladies Longue along Denis Pritt Road in defiance of the curfew order.
According to police reports, Sakaja was picked after he defied police orders to leave the pub and threatened the officers with the transfer.
"Today at around 1am the Kilimani orderly officer received information that one bar namely Ladies Lounge along Denis Pritt Road was still operating, on visiting the said place found about 10 people seated outside drinking among them Senator Sakaja," read the report.
"He was advised to leave but declined, forcing the officers on duty to call the regional orderly officer who too approached him in vain," said the police report.
Later a team of officers led by Kilimani deputy OCPD Adan Hassan visited the pub and arrested the senator and three other revellers after he allegedly became violent and incited others against the officers.
The Senator is reported to have told his drinking buddies to stay put despite orders from the officers that they leave the pub, prompting the officers to act.
During the arrest, other revellers managed to escape.
The Senator allegedly declined to be given a free bond and instead threatened to transfer all the officers in the station within 24 hours.
They have been booked at Kilimani Police Station for contravening the laws and guidelines stipulated by the government of not being outside past curfew hours as well as failing to maintain social distance.
The suspects will be arraigned on Monday for defying restrictions set in place by the government and Ministry of Health.