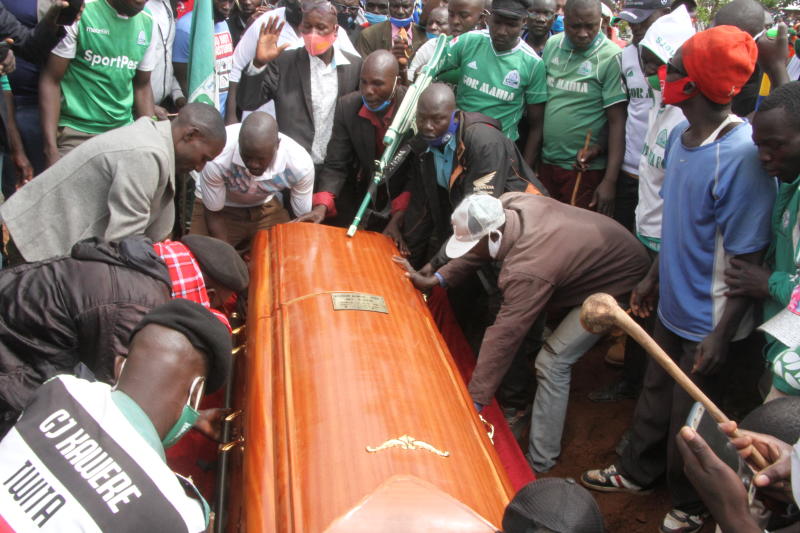 Hundreds of Ohangla music fans on Saturday ignored the Covid-19 regulations to witness the final sendoff of Maureen Otiu, commonly known as Lady Maureen.
Police officers who had been deployed to the mortuary where the body was preserved and at the burial site in Kopanga village were overwhelmed and helplessly watched as the public took control of the event.
Lady Maureen died on Saturday last week at her cousin's home in Uriri, and her body was transferred to Ojele Hospital Mortuary in Migori.
Mourners started milling around the mortuary as early as 5am after word went round that authorities would deny them a chance to view the body.
SEE ALSO: Covid-19: Kenya records 688 new cases in last 24 hours
At 7am, the cortege left the mortuary for Kopanga village, but mourners diverted the procession to Kopanga Primary School grounds, where they viewed the body for more than two hours.
A section of the late musician's colleagues gave speeches before the body was transported to the home of Lady Maureen's grandfather, where a short service was held before it was interred.
There were no speeches from family and relatives, as is the norm in funerals.
Earlier, plans to remove the body from the mortuary on Friday evening aborted following speculation that authorities would force them to bury the musician at night.
The authorities had expressed concern that having the body at home overnight would attract a crowd and hamper social distancing regulations.
SEE ALSO: Senator Sakaja: Never been arrested, won't be
The mourners took over the programme, giving the clergy little time to conduct the burial rites. Lady Maureen's body was lowered into the grave at round midday.
Those in attendance were artistes Austin Odhiambo (Emma Jalamo), Moses Odhiambo (Musa Jakadala), John Okinyi (Osogo Winyo), and Elly Toto, among others.