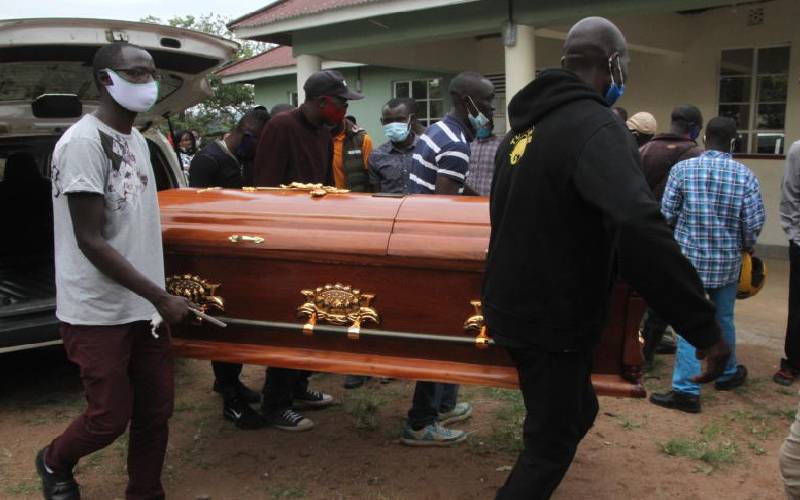 A Migori man claiming to have been the late Ohangla singer Lady Maureen's ex-husband has requested to be allowed to bury her remains.
The man, mineworker at Osiro Matanda in Nyatike sub-County and a resident of Masara in Sana west sub-county only identified as Jack told Standard Digital that he was married to the late artiste for about six years before they separated. 
Jack claimed the musician had requested him before their breakup to bury her if she dies before him, a promise he said he accepted and wants to be allowed to fulfil.
The man who works at Nyatike gold mines claims despite not paying dowry to Lady Maureen's family, they both promised to bury each other depending on who died first.
"Achieng was my wife even though I had not taken dowry to the family, she requested me to bury her if she died first and promised to bury me if I passed on before her," he said.
 He accused the family of rejecting his request to bury his ex-lover despite efforts to do so.
"I have approached them and requested to be allowed to bury her but the family have declined," he said.
Jack, who was among mourners and fans who turned up in large numbers to view the body of Ohangla Queen at Ojele Memorial Hospital Mortuary said they met at Princess Jully band where both of them were band members.
"We married immediately when Maureen joined music and by then I was also a musician with the band," he said.
Love promise
Jack said they went separate ways when Lady Maureen left Princess Jully's band and joined Tony Nyandundo's band where she honed her Ohangla music skills.
"After six years of love, we separated and she joined Tonny Nyadundo's band where she learned how to play Ohangla," Said Jack
He is pleading with Lady Maureen's family to be allowed to fulfil a love promise made many years back
"I was willing to bury Lady Maureen to fulfil the love promise we made to each other being my first lover, but they have rejected the offer."
Charles Ochieng brother and the family spokesperson to the late Lady Maureen refuted the claims, saying many people have requested for the same over the phone, but nobody has actualised their request.
"Those are lies being peddled out there, many people are calling us with a similar request, but they have not come here to discuss the same, so we will not listen to rumours," said Ochieng.
Lady Maureen's body will be transferred from Ojele Memorial Hospital mortuary to Kopanga village earlier today for burial.
The songstress passed on at on July 11 in Uriri, Migori where she was recuperating after she was discharged from hospital.