By Davis Muli



2 hours ago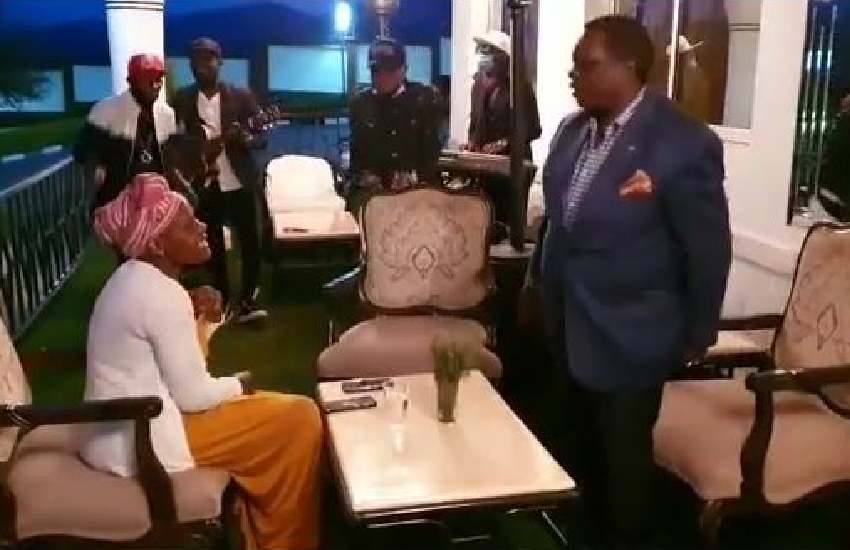 KTN Swahili news anchor Mary Kilobi celebrated her birthday in style with her husband Francis Atwoli who is the Secretary-General for Central Organisation of Trade Unions (COTU). In a video shared on her social media pages, the news anchor and her husband enjoyed a night of music and dance at their palatial home in Kajiado County.
In the video that Kilobi captioned "Birthday evening. Corona era", a band is spotted serenading the couple to a rhumba tune at the balcony of their multi-million home. Visibly having a good time, Atwoli at one point gyrates to the beat by dancing to the music in celebration of the anchor's birthday. Through their performance, the band showered praises on Kilobi for her beauty and Atwoli for being brave, a perfect climax for the COTU boss who had earlier in the day penned a sweet message to his wife. "Happy Birthday Maria, may our good Lord take care of you and give you more years to come for me, our family and friends who all love seeing you around me as you are an added advantage," he wrote on Facebook.
Read Also: Atwoli proposed to me but I said no – TV beauty Mary Kilobi
Last year, the couple travelled to Seychelles to celebrate Kilobi's birthday but owing to the coronavirus outbreak, this year was different.  "Dear God, from the deepest part of my heart, I am truly grateful to you Papa for what you have done in me, for me and through me. Only you could do! You've proven many so wrong!" Kilobi had written at the time on her Instagram page. The two broke the internet in 2018 when Kilobi revealed that she was the newlywed wife to the trade unionist, with most Kenyans taking issue with their 35-years age gap. "There is no age limit between a man and a woman, everywhere in the world," said Atwoli.
Read Also: Ninaweza kazi! Francis Atwoli speaks on marriage to Mary Kilobi
Speaking at Bukwala SDA Church last year in October, Atwoli revealed that he needed company and someone to take care of him during his old age and thus he married the sassy Tv presenter. "I also want someone that can travel with me. Since I'm getting old, I need medicine and someone who can tell me when I have due meetings. As you know, the mother of my children my rural home. If I decide that I want to start travelling around with her, I'll find no home. Therefore, I must have someone who manages me and another to take care of my home," he stated.
Read Also: I don't want my family to fight when I am gone – Atwoli on wealth
Atwoli went on to add that most women often turn their attention to their children and grandchildren and forget about their partners. "These women are so good. However, when they get children and grandchildren, they begin to see them as you and forget about you. You are left on your own. When you get old, you need someone who can give you medicine," he remarked.