By Davis Muli



15 minutes ago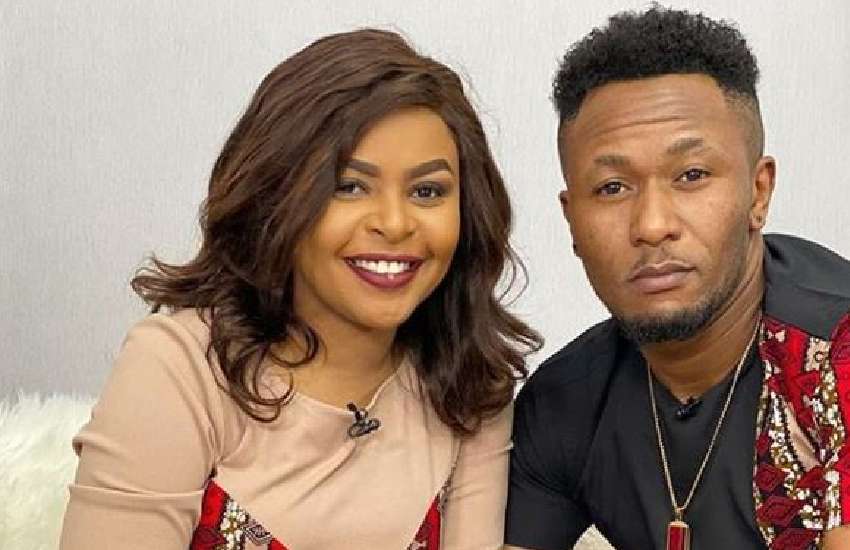 Gospel singer Linet Munyali aka Size 8 has refuted claims that her marriage is on the rocks. Speaking to Radio Maisha presenters; Billy Miya and Mbaruk Mwalimu who hosted her on their Celebrity Hot Seat show, the mother of two quashed the reports insisting that they are happily married. "Ni kuzuri zaidi, yaani, ni kujienjoy tu. Enjoyment," said the self-styled Mama Wambo.
Claims that Size 8 and her husband Dj Mo were not in good terms and only putting up an act were fuelled by critical fans of their reality show dubbed Dine with the Murayas. Picking on the couple's engaging concept, some claimed that it mirrored their marriage life with some going to the extent of highlight an episode where Size 8 accused her husband of sexually starving her for weeks.
In the episode, a topic that the two explained is common in most marriages, the singer disclosed that they had not had sex for three weeks and went on to blame Dj Mo, whom she accused of spending more time with his friends. "Babe tumekaa three weeks hatujahave sex kwa hii nyumba fault ni yako nikikupigia simu sijui uko na maboyz sijui unafanya nini na maboys," complained the Afadahli Yesu star.
In an interview with Word Is a week ago, the songbird revealed that they receive calls from couples who look up to them for marital counselling since their reality show went on air. She added that the show is simply meant to show what couples go through in marriage. "Realness is better than fakeness. We are a mirror and we portray what people out there are going through. We are not sharing too much. We are receiving many calls. It's like we have become a marriage counsellor." she said
The couple has had their fair share of challenges; from struggling to conceive to difficult pregnancies but noted they have never shied away from letting the world know about this side of their life. Just after she delivered their second-born child, Size 8 shared her near-death labour experience as she thanked God for His faithfulness throughout her problematic pregnancy.
Opening up more on their son's room makeover video, Size 8 recalled the difficult pregnancy saying her son's birth was an answered prayer. "It's been a journey. I thought my boy Muraya Jr would never make it out of the ICU… This kid is so blessed…He is an answered prayer. What makes it even more emotional is that it wasn't easy. We almost lost him.  She disclosed that she almost lost her life and she had to be put under oxygen. "I almost died; I was put under oxygen and given magnesium. I was twitching like someone who has epilepsy – my pressure was high. When I get into this room now, I just see how God is faithful," she said.