Schalke 04 winger Matondo apologises to fans after he was pictured wearing Borussia Dortmund Shirt
Last updated 55 minutes ago | By Game Yetu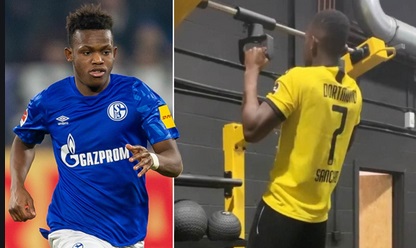 Schalke 04 winger Rabbi Matondo has apologised to Schalke fans after an Instagram post of him training in a Cardiff gym wearing Jadon Sancho's Borussia Dortmund jersey went viral on social media.
SEE ALSO: Barcelona reflect on catalogue of errors as title slips away
The 19-year-old, who joined the Bundesliga side in a £11 million deal from Manchester City last year,  was doing independent training when the picture
Just 30 kilometres (19 miles) separates Gelsenkirchen-based Schalke and Dortmund, but there is no love lost between the sides in the Ruhr Valley, the industrial heartland of western Germany.
SEE ALSO: Former FKF president Nyamweya loses key staffer
Despite their clubs' deep rivalry, Matondo is friends with Dortmund star Sancho.
The the gym picture was quickly taken down after a flurry of angry comments from Schalke fans.            
SEE ALSO: Leicester hit with triple injury blow for run-innnhhgg
"I want to be honest: I was naive and put on the shirt for a private training session. It was from my close friend Jadon Sancho. I only wore it because of Jadon, it had nothing to do with Dortmund," the Welshman wrote on Instagram.
"There is no excuse for this immature behaviour."
"I would like to apologise to everyone who was annoyed or insulted by my behaviour," the 19-year-old added.
"I can promise every supporter that from day one, I have identified 100 percent with Schalke.
"I will always give everything when I run out for Schalke to prove how much I love the club."
On Tuesday, Schalke sports director Jochen Schneider had said he made it "very clear" to the Wales international what he thought of his "ill-considered action".