By Standard Entertainment



7 hours ago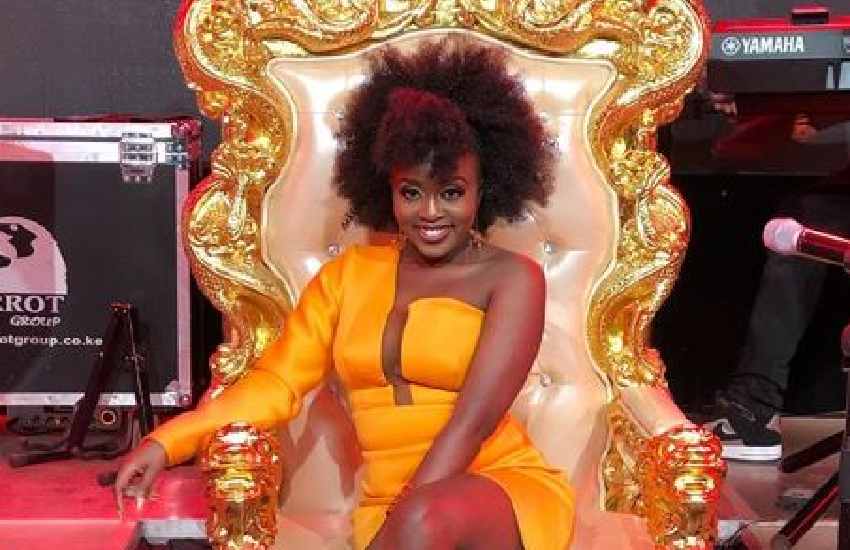 Popstar Nadia Mukami has put to rest questions as to her sexual partners in a no holds barred Question and Answer (Q&A) session with Radio Maisha's Billy Miya and Mbaruk Mwalimu in a must tune in to afternoon segment dubbed Celebrity Hot Seat. "Would you rather be ugly or dumb?" Posed Miya to kick start the segment that prides in digging deep into the lives of celebrities for uncomfortable and never before heard revelations. "Ugly, of course," responded the Nikune songbird amidst a burst of hearty laughter from her and the Maisha Jioni duo. "At what age did you break your virginity?" went on Mbaruk. "I am still a virgin!" she roared. "That is a scam," fired back Miya, "You said to give an answer, I did," said Mukami as she cleverly wiggled out of the exciting quagmire and proposal of proof from Mbaruk.
While that may have simmered down, her growing fanbase is not about to let her be when it comes to details about her relationships; past or present and real or imagined. In another Q&A session on her Instagram account a month ago, the singer, after being taken to task severally, revealed that one of her most asked questions was why she was single. "Let me answer this generally as to why I am single!!! I have been single for 6 months and so many great things have happened in a span of 6 months (upgraded). The moment I get in a relationship I swear I always get stuck! Giving myself a one year break! I have some goals I need to attain!! I am an idiot when I am in love! For now, I just wanna make money and achieve my dreams!!" she stated.
Read Also: Nadia Mukami's car gift to her parents
The singer noted that she is intentional when it comes to dating and reiterated that she will only engage with potential suitors who want and are ready to settle down as she has no time to play games. "The next relationship has to lead to marriage I have been telling my friends I wanna settle down wananishangaa! I don't like games in relationships I have never dated for fun! Am on a one year break! Immediately I turn 24 all potentials kindly note am ready for marriage kindly note, not a relationship but marriage," said Mukami.
It wasn't always like this. She, three months earlier, outed her first lover who dumped her for a light-skinned lass. Candid and straightforward, Radio Love hit-maker disclosed that she was in the third year of her University studies when the man, Eric Munene, walked out on her. "It was painful, I didn't eat, I didn't sleep, I was crying. I thought that he was a guy who was going to marry me but he didn't marry me. Here I am, I made it." Her relationship with fast-rising singer Arrow Bwoy did not work out either. In an interview with Anto Neo Soul, the singer said that the low-key relationship fizzled out. "He's an amazing friend. We tried dating but it didn't work," said Mukami.
Claims Arrow Bwoy denied in a follow-up with The Trend's Amina Abdi Rabar: "Aachane to na hizi sideshows, hazileti shangwe yaani. Because the Nadia I know is the one I did a collabo with and I love the fact that she is a go-getter and all I know is that she has so much potential. Piga tu kazi. I'm your fan. Forget these other sideshows… Basing on the fact that she had just released her track, probably she was just drawing traffic to her new jam. That is just not her. I'd advise her to forget the sideshows and focus ahead because her new track was good and she is a hard-hitter. Mi nampenda. I just want her to focus on what's important – music."
The 2019 PMVA winner would later confirm Arrow Bwoy's position in an interview with comedian Felix Odiwuor, popularly known as Jalang'o. "I am single and working on my business, Arrow Bwoy and I never dated. What happened was that a blogger wrote the story and we just decided to run with it, we used it to push our music," she said. As to who she thus has no qualms dating is American record executive and rapper Jermaine Lamarr Cole alias J.Cole. "I mean I'm already dating him but he doesn't know. J. Cole. I've said it a million times. He's my baby daddy, we don't have kids yet. He's my husband, we are not married. He doesn't know me. He has a wife but… J. Cole."
Read Also: It hasn't been an easy year, I would have sunk- Nadia Mukami
That has, however, not stopped some from publicly declaring their affection for her. "I find people putting my picture on their profile. Putting me on their status, Instagram, Facebook saying I´m their girlfriend. Until I have posted someone, don´t believe anything. I didn't even like him," she said.