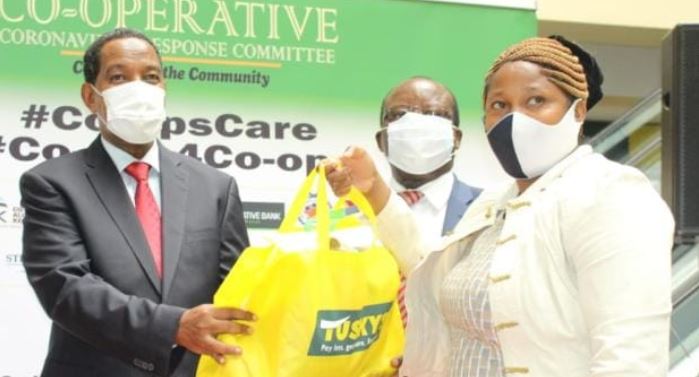 NAIROBI, KENYA: The Co-operative Coronavirus Response Committee (CCRC) has entered into a partnership with Kenya Diaspora Alliance (KDA) to support cooperative households affected by the coronavirus pandemic.
The partnership with KDA is mooted out of the need to leverage an international network with Kenyans in the Diaspora. Among such members include the 17 registered Diaspora investment co-operatives in various countries.
The CCRC initiative through support from the sector intends to raise Sh1 billion to support 500,000 co-operative households directly affected by the pandemic through loss of income.
The affected households will receive survival food kits packed with basic foodstuffs, facemasks, and detergents to help cushion them from the pandemic.
Since the formation of CCRC in April, Sh13 million has been raised by co-operatives and individual co-operators and 5,000 households have been reached.
"A calamity of this magnitude is unprecedented in the co-operative sector in Kenya. Being a global phenomenon it calls for a concerted effort by all stakeholders," said CCRC Fundraising Chairperson, George Ototo.
"KDA are willing to support in conducting surveys to determine the impact of Covid-19 to the co-operative sector," said KDA Convener Dr. Shem Ochuodho
The CCRC initiative has aligned its activities with the National Emergency Response Committee on Coronavirus efforts to collaboratively mitigate the spread of the pandemic and manage its impact in the sector and the economy at large.
The Co-operative Coronavirus Response Committee is an initiative of Kenya's cooperative sector founded on the co-operative fifth principle of education, information and training, and the 7th principle (concern for the community), today announced that it has partnered with the Kenya Diaspora Alliance (KDA).
KDA is a federation of over 30 major diaspora organizations with a nominal combined membership of over 2,500 000 Kenyans globally and Trustee, Diaspora Investment Club (DICL).
The CCRC initiative is spearheaded by State Department for Co-operatives; Co-operative Alliance of Kenya (CAK); Co-operative Bank of Kenya; Kenya Union of Savings and Credit Cooperatives (KUSCCO); National Housing Co-operative Union (NACHU); Cooperative University of Kenya; CIC Group and other development partners like Global Communities.