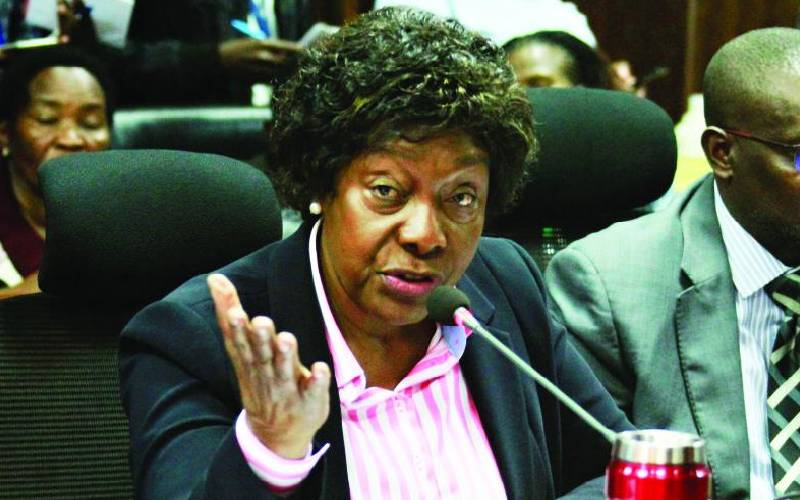 The Motion to impeach Kitui County Governor Charity Ngilu, which was to be tabled on Thursday, has been postponed again. 
Athi Ward MCA Peter Kilonzo, who is the proposer of the Motion, said the decision to push it back was arrived at after establishing that a section of MCAs could not be relied upon to support it.
"We have looked at our records and realised a number of our colleagues are missing. I have consulted and we have decided to postpone it until the whereabouts of those members are known," Kilonzo, who was flanked by the Wiper party team, said.
Sources at Speaker George Ndoto's office said 15 MCAs were hiding at a hotel in Tsavo East National Park and had switched off their phones with the aim of skipping the debate. Kilonzo said since the Motion touched on the governor, the voices of all MCAs ought to be heard.
SEE ALSO: MCAs to grill Ngilu ahead of impeachment motion
"The voice of every ward member must be heard. That is why we have decided to withhold the motion and give time to the missing members to come out of hiding. Every member will be afforded an opportunity to air their views on whether they support or oppose the impeachment," he stated.
Kilonzo, who is the Majority Leader in the House, said missing members would not hide for long because the standing orders do not allow MCAs to skip eight sittings consecutively. The Motion would be tabled once the House is "properly convened".
Delaying tactics
The postponement of the Motion has been condemned by a section of the governor's supporters, who accuse the Wiper team of lacking requisite numbers to impeach her. They accused Wiper party of resorting to mind games and delaying tactics.
By yesterday, The Standard established the Motion had 34 MCAs in support, which falls short by two for it to sail through. At least 36 members out of 54 in the House must support the Motion for it to pass. Kilonzo said some of the missing MCAs had appended their signatures to the Motion.
SEE ALSO: Blow to Ngilu as Court grants Assembly go ahead to table motion
Meanwhile, Ngilu's legal team comprising Morris Kimuli and Martin Oloo have sought to cross-examine Kilonzo and Yatta/Kwa Vonza Ward rep John Kisangau during the hearing today. The assembly has summoned the governor for grilling on the allegations contained in the impeachment Motion. The two are the key proponents of the Motion.
"We are instructed to cross-examine the mover of the Motion Peter Kilonzo and John Kisangau. Please arrange to have the hearing conducted in a manner allowing cross-examination," said a letter signed by Kimuli and addressed to the speaker.
However, it was not clear if the governor's appearance or her legal team would go on after the adjourned Motion.