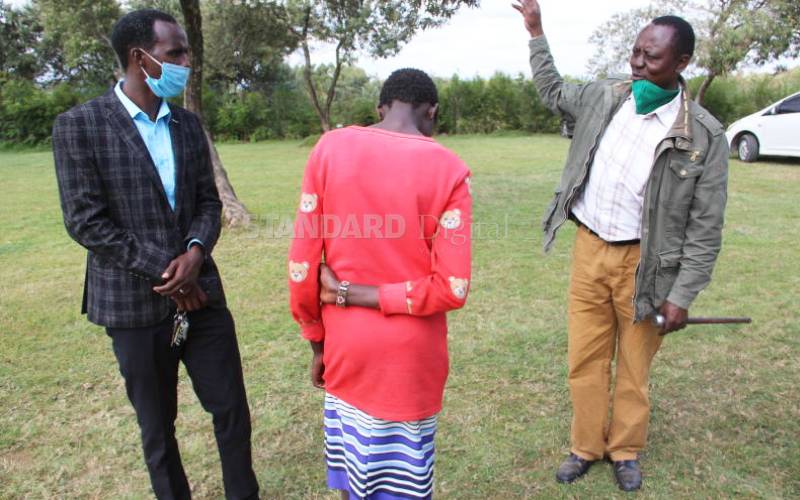 A 12-year-old girl has been rescued by authorities after she was married off to two men in a span of one month in Maji Moto village, Narok South.
The Standard caught up with Naisula (not her real name) yesterday at the Narok Children's Department offices after she was rescued from the second marriage, this time to a 35-year-old man.
"I did not know him before and I did not love him. I told my family I didn't want the man, but my father said the man could feed us and that I would get married to him," said the Standard Six pupil at Enkare-Nairowua Primary School.
Her first marriage to a 51-year-old man lasted just over two weeks.
SEE ALSO: Covid-19 rules force girls at risk of FGM to leave centres
Naisula aspires to be a doctor, but when she turned 12 a few weeks ago, her father married her off to the elderly man.
He told her she was too old for school and forcefully married her off to the man that Naislula described as old. She was to be the second wife. 
"Our father had forcefully married off my two elder sisters and I was the only one remaining. When schools were closed he planned to marry me off," she said.
Naisula's plea to be allowed to complete school fell on deaf ears. "Girls are born so that people can eat. All I want is to get my dowry," the father reportedly told her.
She fled to a relative's house, but her father caught up with her before forcefully taking her to the old man.
SEE ALSO: Teenager rescued from early marriage
The man had promised to give four cows for dowry, but since the local administration was monitoring the girl's father's movement, the handover was shelved to a later date. 
The Maasai community gives four cows to signify that marriage has taken place.
Naisula tried to resist, but she was beaten by her male cousins, who accused her of dishonoring the family.
She told The Standard she deserted the first marriage after two weeks. "I escaped and since I could not go back to my father's home for fear of being reprimanded, I eloped with a 35-year-old man, who was married," she said.
"Mimi nataka kuendelea kusoma nikuwe mtu wa maana kesho. Nataka kuwa daktari. Naomba serikali inisaidie nirudi shule (I want to continue with my studies and be a dependable person in future. I appeal to the government to help me return to school)," she pleaded.
SEE ALSO: Coronavirus puts millions at risk of child marriage, FGM, UNFPA warns
Area Chief Rimoine Maiyone and Narok Peace Ambassador Joshua Kaputa got wind of Naisula's predicament and acted fast.
"We were tipped off by the public that there was a girl that had been married off twice. We trailed her for three days and we managed to rescue her. We are working with well-wishers to get her a safe haven while hunting for the culprits," said Maiyone.
Naisula is the second-last born in a family of three girls and five boys.
The chief said police were looking for the father of the girl and the two "husbands" who have since gone into hiding.
The administrator said the girl's father was yet to receive dowry from the men for fear of being arrested, since payment of the bride price is a big ceremony in the Maasai culture.
The chief said for the last three months, at least 26 girls had been married off after being impregnated. He added that they were looking for two other pupils who had been married off.
Naisula's plight is a classic example of how closure of schools to curb spread of Covid-19 has impacted negatively on the girl child in pastoral communities.
"Girls in Maasai land are facing a bleak future in the wake of Covid-19. If concerted efforts are not made to save them we shall have no girl reporting back to school by next year due to FGM, early marriage and teenage pregnancies," said Kaputa.
The peace ambassador, who is now the guardian to the girl, told The Standard he had secured a rescue centre for the girl and would ensure she continues with education when schools reopen next year.
Narok is one of the counties leading in number of teenage pregnancy cases, according to the Kenya Demographic Health Survey (KDHS).
Barely a week ago, five men were arrested in Narok town after they were found to have cohabited with a 14-year-old KCPE candidate.
Police and the local administrators made the arrest at Macedonia estate after they were tipped off by the public.
A 30-year-old trader had reportedly been living with the pupil for a week and had invited his friends to celebrate his acquisition of a new "wife".
Area Children's Director Pilot Khaemba said for the last three months, about 30 girls had been rescued from early marriages and taken to rescue centres, while culprits are facing charges in court.