Gicheha Farm: Unknown to many people, President Uhuru Kenyatta is owner of the expansive Gicheha Farm which is located a kilometre off Nakuru — Eldoret highway.
According to a report that appeared in Kenya's leading daily newspaper, Daily Nation, President Uhuru's Gicheha Farm is home to imported beef cattle that includes the Ankole from Uganda and Brangus, Charolais, Hereford and Brahman. The report further tells that local breeds at the farm include the Borans and Sahiwals.
Gicheha Farm runs for over 4,000 acres and hosts over 1,000 animals. "The majority of these animals are imported from South Africa," says the Daily Nation report. Apparently, there are 200 Ankoles from Uganda, and some 200 Dorper sheep and Galla goats.
These animals are mainly kept for their meet.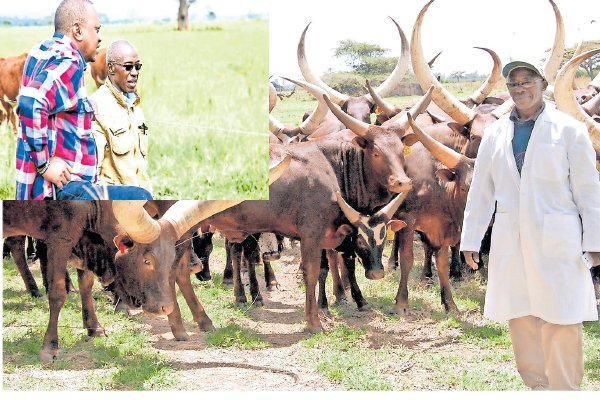 The president's farm has also introduced 42 Boer goats from South Africa for milk purposes. The paper reports that the goats will start getting milked over the next two months, with a litre of milk being sold at between Sh. 150 and Sh. 180.
The paper reports the farm manager as explain:
"Large-scale beef farming is an expensive venture that requires round-the-clock supervision so that diseases do not mess you up. We also have a strict feeding programme that we adhere to and constantly monitor the weight of the cattle, water supply and pasture farming to ensure we have feeds all the time."
The animals at the farm are taken for a dip every week. "During the day, they graze in the field and in the evening, they retire in the sheds where they are fed minerals, salts and hay, which is mixed in special troughs," the paper reports.
President Uhuru has also employed a veterinary officer who monitors the animals and who is based at the farm.
"Our animals are vaccinated against foot and mouth disease, anthrax, and Rift Valley fever twice a year while lumpy skin disease is done once a year. Deworming is done every three months," the Daily Nation quotes the farm manager saying. It further reports that Uhuru's bull calves are castrated after seven months to avoid breeding and guarantee top quality in the market. The animals are expected to be sold locally once the animals attain the weight of between 450kg and 500kg.
"Each animal on the farm has a file that documents their history, breed name, date of birth, parent breed, hardiness, weight at birth, disease history, reason for disposing it and expected maturity date for the market," says the Daily Nation in its report.
The farm has employed 30 workers and has a hay stock that can last for three years. Additionally, at least 2,000 acres are filled with Boma Rhodes grass which is used for hay production.