Successful Women in Kenya: Pam Mutembei is the Head of Business and Marketing at Credit Bank Plc.
Saving method
I have learnt that in order to keep focus in your savings, you must visualize what you are saving for. Pay yourself first, on average 10 per cent of your income should be yours to keep. You will need to have a budget and keep track of it, the budget must also account for unplanned spending. Have short (such as travel), mid (such as buying a car) and long term (such as buying a home) goals. Let your goals be realistic in line with your income growth as well as the returns on your investments. It's important to have an accountability partner especially for the longer term money goals.
Greatest milestones
I have a couple of great milestones, but my most recent would be the birth of the Entrepreneurs Hub at Credit Bank, which is a business knowledge forum that brings together business people from an array of sectors to learn on business management. My passion is in women and entrepreneurship and seeing entrepreneurs grow from an idea, to thriving small businesses, and later to empires. This gives me the push to continue in my drive to support entrepreneurs.
Key to success
You'll be unstoppable if you identify what you're good at, get passionate about it, and push your limits. Also, develop a strong self-belief system, pick the right mentors, and build the right networks. I am progressively adaptive to an ever-changing environment in my work space as well as my personal space. I also believe in gratitude for the small wins and for the mistakes too as they form a learning point.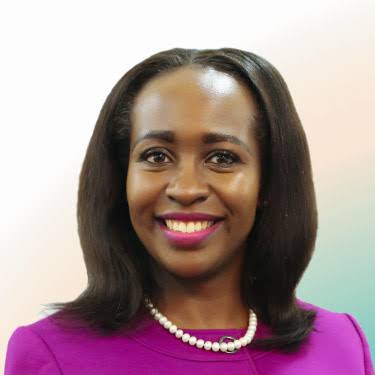 Biggest career loss
Some years back, I landed what many would call a dream job when an opportunity to move to London and work for a multinational came along. As life would have it, I had just started a family and just had a child. It was a tough call for me at the time and I declined the job. I will never know how it would have gone, but I have no regrets in choosing my family. The advantages and opportunities for impact that I have now also make me more aware of what I was meant to be and to do.
Biggest money mistake
It would have been wise if I had made better financial decisions when I was younger and paid more attention to investments and savings plans as opposed to the reckless spending I always got up to. I still love my shopping and travelling but I also create funds that help with planning for that kind of spending.
Liz Simiyu: Don't do it for free if it can give you extra income
If I could go back in time
I would tell my younger self; 'Pause, it's never that serious. The things that you think matter at a young age are really trivial in the grand scheme of things. Do what you love without the pressure of friends or family. Professionally, do not be afraid to ask for your seat at the high table.' I remember that as a woman, I used to be too conscious of how people saw me, and whether I came across as being 'too aggressive'. This wouldn't bother me.
Entrepreneurship versus employment
The difference between them is the amount of risk you're willing to take. Employment is low risk while entrepreneurship is high risk. Over and above, though, running your own successful enterprise or having a high flying job comes down to a personal decision on what value and impact you want to create.
This feature was first published in the Saturday Magazine.