Amaco Insurance has denied that it has filed for bankruptcy. This is after reports emerged that the insurance company linked to Deputy President William Ruto was on the verge of collapse.
"We would like to assure our customers and the general public that we have not filed for bankruptcy proceedings contrary to an article circulating on social media. We've not been served with any notice or court proceedings on the same.We are addressing the same via the rightful channels," said Amaco in a statement.
Reports had indiated that a petition seeking the liquidation is set for hearing by the High Court next month on January 30.
A notice published in the December 27 Kenya Gazette had asked any creditor or contributory of Africa Merchants Assurance Company (Amaco Insurance) to appear for the hearing slated for January 30. The proposal, which was mentioned by the High Court on November 7, was presented by Beth Kahara and six others.
READ MORE: Safaricom finally beats Zuku in fixed internet connections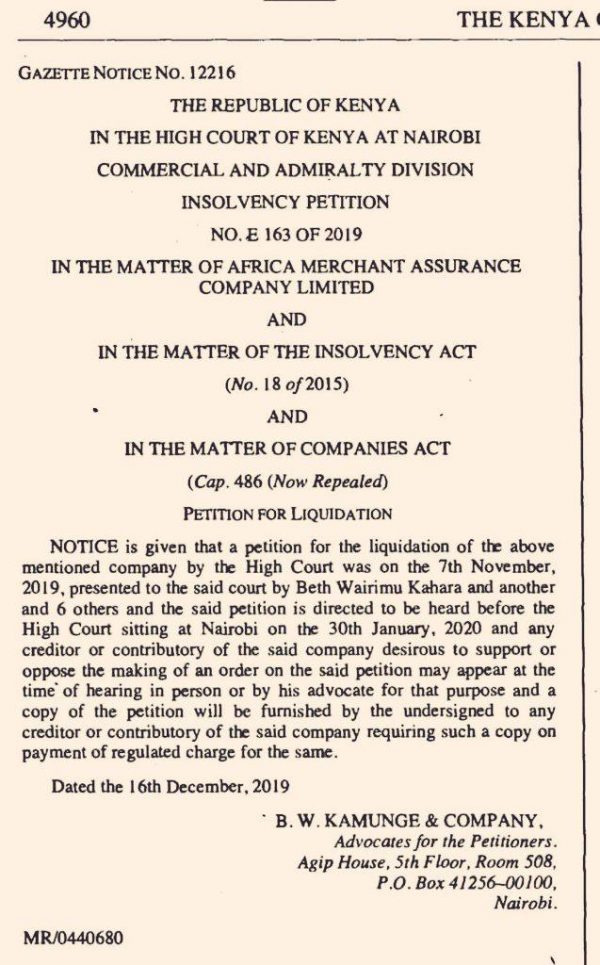 However it was still not clear why the petitioners are seeking for liquidation.
The insurance firm has been dogged by controversies over tenders with the Nairobi County government. In November the firm defended itself from any wrongdoing on its Sh. 87 million tender with the Nairobi County government.
Documents indicated that, on June 30, 2016, Amaco entered into a contract with  Arbab Auto Care Ltd, which runs a garage where the county government's vehicles are taken for repairs.
On May when the Nairobi county paid the insurance firm,  they paid Arbab alongside other firms as part of payment for garage and towing services.The company wired more than Sh. 20 million in bank transfers of Sh. 5.3 million, Sh. 10.7 million and Sh. 7.5 million to the garage.