SGR Train Tickets: A popular tours and travel agent with wide publicity on social and mainstream media has been caught up in the SGR tickets scandal.
The scandal involves a ticketing block game and refund scheme. The refund scheme involves the theft of up to Sh. 1 million daily from the SGR.
Under the tickets scandal, the popular tours and travel firm has been working with insiders to ensure that rivals have no access to the tickets.
The popular and highly publicized firm is said to be the chief ticket pirate in the seat blocking game at the SGR.
King Kaka's wealth: How I built my empire when all I had was Sh. 1,200
Insiders within the ticketing office are said to be in collusion with a major travel agent offering bulk booking for tourists who block seats immediately the online system opens and resell them at double or triple the prices to other stranded agents or individuals.
A disgruntled travel agent laments that her agency could not secure tickets for December 23 onwards when they tried to beat the one-month advance booking.
"We had the entire train full in five minutes. After staying late at night and securing clients to take to Mombasa for holidays, we were forced to seek alternative means for them including one way flights which are 10 times more expensive. Later, small shops in downtown Nairobi had bookings for the same date which they were selling at Sh. 2,000 for economy and Sh. 5,000 for first class. It's a shame," the agent said.
CRBC, which runs the SGR, currently sells about 4,000 tickets per day through a subsidiary firm Africa Star Railway Operations Company.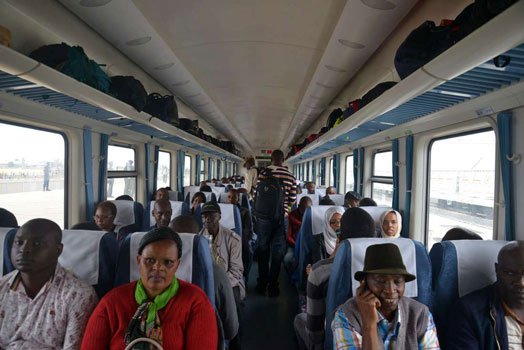 The company also acknowledges investigations into the ongoing scam. "There is an average six percent of refunds per day on tickets sold. We have been informed by the Kenya police of a potential discrepancy involving a few refunded tickets. The police have questioned a few of our officials and we are fully co-operating in the investigations," Mr Dai Yunjie, the firm's spokesperson, said.
The report further says that the SGR trains run between 1,200-1,400 passenger capacity with brisk business experienced during festive seasons like December when bookings are made in full a month before. SGR Train Tickets.