Co-op Bank ATMs: The Co-operative Bank has recalibrated its ATMs in order to start issuing the new currency notes.
The recalibration and testing process was overseen by Co-op Bank Head of ATM & Self Service Duke Sitemba with Service Manager Coop House Branch Justina Musyimi.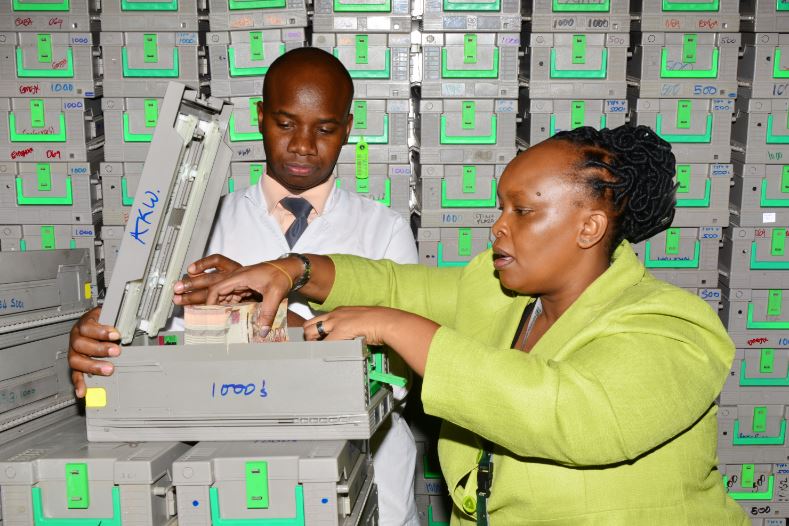 The re-calibration is supposed to ensure that ATM cassettes will dispense the new currency notes without a hitch across the 580 Co-op Bank ATMs countrywide.
The new notes were unveiled by CBK Governor Patrick Njoroge during the Madaraka Day celebrations held at Narok stadium officiated by President Uhuru Kenyatta.
Njoroge said the new notes have a unique theme and security features and will have images various images—including the iconic KICC, the big five wildlife and will be easy to use by the visually impaired.
"The new banknotes bear significant aspects of our nation and like the coins, will serve as a means of passing knowledge, conserving culture and promoting our global uniqueness," he said,
"Each banknote has a unique theme to show the richness of our people and nature in our beautiful Kenya. For the Sh50 we have green energy, Sh100 agriculture, Sh200 social services, Sh500 tourism and Sh1000 governance."
The CBK Governor said the old Sh1000-note will be withdrawn effective October 1 when they will cease to be legal tender.
"All the older 1000-shillings series shall be withdrawn. By a Gazette notice dated yesterday May 31, 2019, all persons have until October 1, 2019 to exchange those notes after which the older 1000 shillings banknotes will cease to be legal tender. More details about this will be provided," he said, before handing the brand new notes to President Kenyatta. He said CBK is increasingly concerned by the emergence of counterfeits which jeopardize proper transactions and the conduct of commerce in Kenya's currency.
"We have assessed the grave concern that our large banknotes particularly the older Sh1000 shillings series. They are being used for illicit financial flaws in Kenya and even other countries in the region," he explained.