A vaccine with the potential to stop HIV infecting cells is set to be launched in Kenya with the clinical human trials starting in July 2019.
According to an announcement made by a group of scientists on Friday, June 14, the recruitment for the promising trial would begin in the next three weeks.
READ ALSO: Magufuli decries unbearable Chinese loan conditions, terms them suitable for "mad people"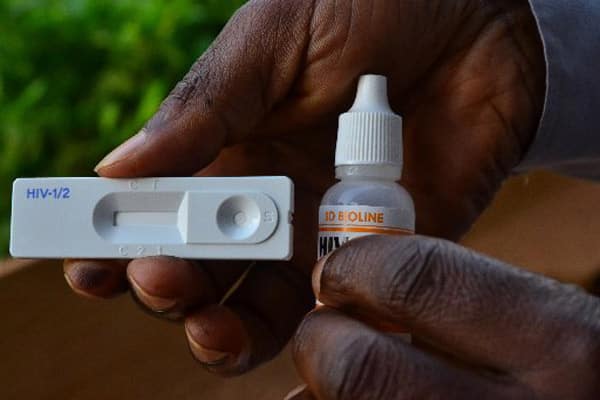 READ ALSO: Governor Mike Sonko declares he is HIV negative in court papers
The new vaccine will apply a 'block approach' in stopping HIV from attaching itself onto cells, specifically the CD4 cells, often called T-cells which forms part of the immune system.
The clinical trial has been codenamed IAVI W001 trial.664gp140. W001 and will test a vaccine candidate dubbed BG505 SOSIP — a molecule cloned to look exactly as the HIV one.
The director of Kenya AIDS Vaccine Initiative (KAVI), Omu Anzala, said the trials will be tested on HIV-negative Kenyan volunteers to check for safety and efficacy, Daily Nation reported.
READ ALSO: Kimilili MP Didmus Barasa under fire from netizens after donning torn shorts, walking barefoot
"This is phase one of the first human trial for this vaccine and over the next one-and-a-half years, the trial will seek to answer questions on how safe the vaccine is and how well it can induce the human body to produce antibodies that can neutralise HIV," said Anzala.
"The candidates (HIV-negative), will get three shots every month for the first three months … and then we will start to keenly follow them up … to see did it work or not," he explained.
This was after the trial vaccine showed promising results by causing production of antibodies that neutralised a HIV-like virus during animal testing.
READ ALSO: Pastor Wilfred Lai blasts protestants for believing Sunday is God's sabbath day
Senior research scientist at the International Aids Vaccine Initiative (IAVI) who developed the molecule BG505 SOSIP. 664gp140, said it belongs to a new generation of immunogens molecules.
Elise Landais said that the molecules are capable of causing an immune response in the body called nativelike trimers.
They induce broadly neutralising antibodies with capacity to attack the HIV virus in the body upon detection.
READ ALSO: Mbunge wa Jubilee avaa kinyasa kilichopasuka makalioni na kwenda bila viatu kuwahamasisha wanafunzi
"So BG505 SOSIP. 664gp140 is the molecule that will be put in the test candidates by vaccination," said Dr Landais.
"This is the first time we're trying anything like this. Before the molecule, we were working with HIV products that we discovered recently weren't very good at achieving the desired results," she added.
But the scientist claimed they now know the right shape of the molecule that sits on the HIV virus and hence this trial.
READ ALSO: Eldoret: Divorced couple reunites after separating for 15 years
Before, the scientist were looking at a certain shape of immune cells that were killing the infected ones.
This time round they are focusing on activating cells that are going to produce antibodies that will actually block the virus even before it infects the cells.
"So instead of coming after the infection has already happened, we are trying to block its pre-infection. All the products we had before couldn't activate this kind of response because it did not have the right shape," she said.
READ ALSO: Baby born on train to get 25 years free rail travel
Anzala also said this is a new product and that previously, they used products that elicit T-cells, but this particular product is eliciting humoural immunity or B-cells that will give broad and potent neutralising antibodies.
The researchers spoke during a scientific talk at the University of Nairobi College of Health Sciences' KAVI-Institute of Clinical Research.
Relevant infrastructure and technology transfer for the trial had been concluded at the site.
Do you have a hot story or scandal you would like us to publish, please reach us through [email protected] or WhatsApp: 0732482690 and Telegram: Tuko news.
The Love Potion Giver
Source: Tuko.co.ke