– The three parents, Rosemary Onyango, Angeline Omina and Wilson Lutah, received DNA results on Saturday, June 15
– The results showed Sharon Mitekwa and Melon Lutenya are biologically identical twins with 100% march in DNA profiles
– The results also revealed Rosemary is the biological mother of Sharon and Melon and not the mother of Mevies Imbaya
Rosemary Khaveveli Onyango, Angeline Omina and Wilson Lutah, parents of Sharon Mitekwa, Melon Lutenya and Mevies Imbaya who were switched at birth 19 years ago, have indicated they will be moving to court to seek justice.
This was after DNA results released on Saturday, June 15, confirmed the lookalike teens Sharon and Melon are indeed biologically identical twins and Rosemary is their mother.
READ ALSO: DNA results confirm lookalike Kakamega teens are identical twins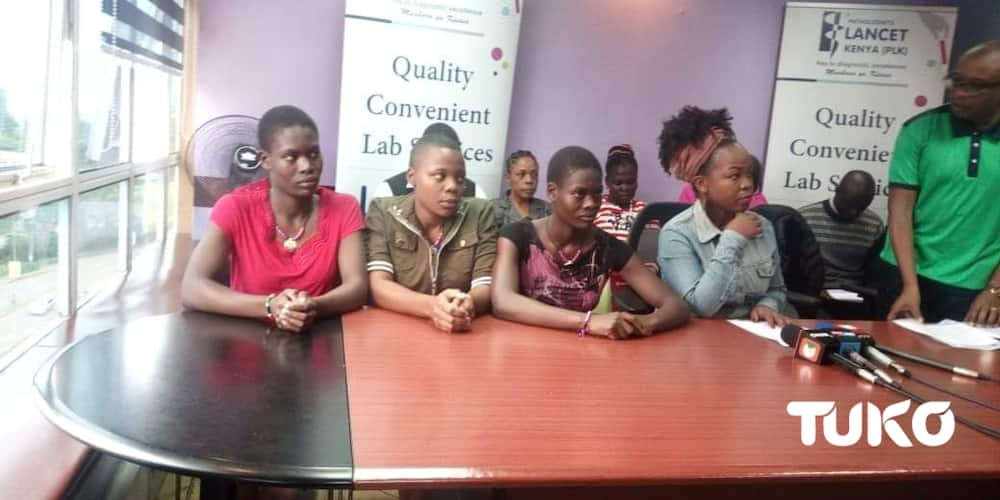 READ ALSO: Melon Lutenyo na Sharon Mathias ni pacha, DNA yathibitisha
The three parents who appeared overwhelmed by emotions following the big announcement hinted at going after Kakamega General Hospital where the three teens were born.
"We plan to take legal action against Kakamega General Hospital because they have caused us a lot of pain," the parents said after Dr Ahmed Kalebi who announced the DNA results indicated it could be a case of negligence that led to the three girls being separated at birth.
READ ALSO: Kakamega 'identical twins' reunite 19 years after they were separated at birth
As was earlier reported by TUKO.co.ke, Sharon and Melon were found to share 100% identical and perfectly matched DNA profiles.
The DNA analyses showed the two young women had a 99.999% compatibility with their biological mother Rosemary.
It was thus confirmed that Rosemary is not the biological mother of Mevies who she brought up together with Melon believing they were twins despite striking physical differences.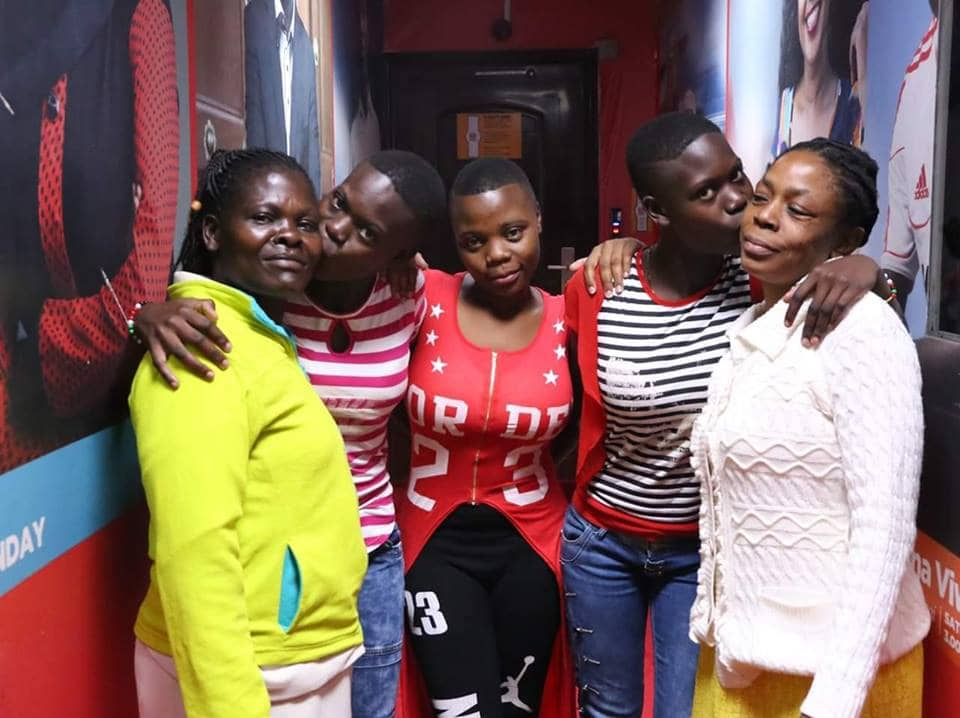 READ ALSO: Kemri ready to solve mystery of Kakamega teens believed to be twins and re-united after 19 years
A similar test on Angelina who raised Sharon as her biological daughter in Nairobi, showed a mismatch of 13 out 23 loci with her.
Mevies who grew up knowing Rosemary was her mother and Melon as twin sister exhibited maternal and paternal traits with that of Angelina and Wilson Lutula, her father.
Rosemary gave birth to twin girls at Kakamega General Hospital about two days after Angeline delivered her daughter in 1999.
She (Rosemary) previously thought she was expecting triplets but after undergoing a cesarean section, only two babies were delivered.
The pair was placed in separate incubators and after one week, their mum walked out with two babies and happily raised them as her own, not knowing that one girl had been mistakenly switched with Angeline's.
Rosemary named her kids Melon and Mavies but always wondered why the girls did not resemble at all.
READ ALSO: Nairobi woman with amnesia forgets baby's whereabouts shortly after birth
Melon and Sharon who bear a striking resemblance grew up in different counties but surprisingly schooled within the same area.
One day when Melon had attended an event at Shikoti Secondary School, students at the institution could not understand how she looked like one of their schoolmate.
"When I went to Shikoti, students saw me and started laughing. I was so afraid after they told me I had a sister at their school. I told them I had a sister at Kimosin Girls and not Shikoti," Melon said.
Later, her teachers attended an event at Masinde Muliro University and spotted Sharon and they were left in complete disbelief as she was a carbon copy of Melon.
Sharon and Melon then connected via Facebook, after which Melon decided to travel to Nairobi where Sharon lives and that is when they met for the first time.
"It was our first time to travel to Nairobi and we met in town. We hugged and cried uncontrollably. It was like there was strong bond between us and that makes me believe that Sharon is my sister," Melon said.
Do you have a life-changing story you would like us to publish? Please reach us through [email protected] or WhatsApp: 0732482690 and Telegram: Tuko news.
VOX POP: What does wamlambez and wamnyonyez mean? – On Tuko TV
Source: Tuko.co.ke