The tension that has been building between correspondents and top editors at Radio Africa Group has boiled over as payment delay enters the third month. Leaked communications from an inhouse Whatsapp group show the journalists who work for The Star newspaper and its digital and broadcast platforms protesting at the arrears.
Worryingly, Business Today has been informed that the hardstance adopted by the editorial leadership has some journalists – broke and disillusioned – contemplating dark options including suicide as some battle depression.
In one of the chats, a correspondent who is desperate for cash pleads passionately for payment, even explaining that he has no money to feed her children and pay rent.
[ READ ALSO: Nairobi based serial gambler speaks out on new betting tax ]
The lady is then accused of inciting others. "It's unfair to be told that I am inciting people when I ask for pay," the journalist writes back in the forum.
"I need that money for children and my rent and I speak for myself. I don't represent anybody but myself because only I know what I am going through….if it's a crime for me to ask for pay, I leave that to God who is above all of us."
The group is administered by head of content Paul Ilado and News Editor Francis Mureithi, who are members of the media house's super desk. One of the editors responds to the group members, explaining to the journalists that a solution was being sought to clear the arrears. "Sorry that your pay has delayed and it will be paid," he writes. "However, it isn't good for you to appear to incite others."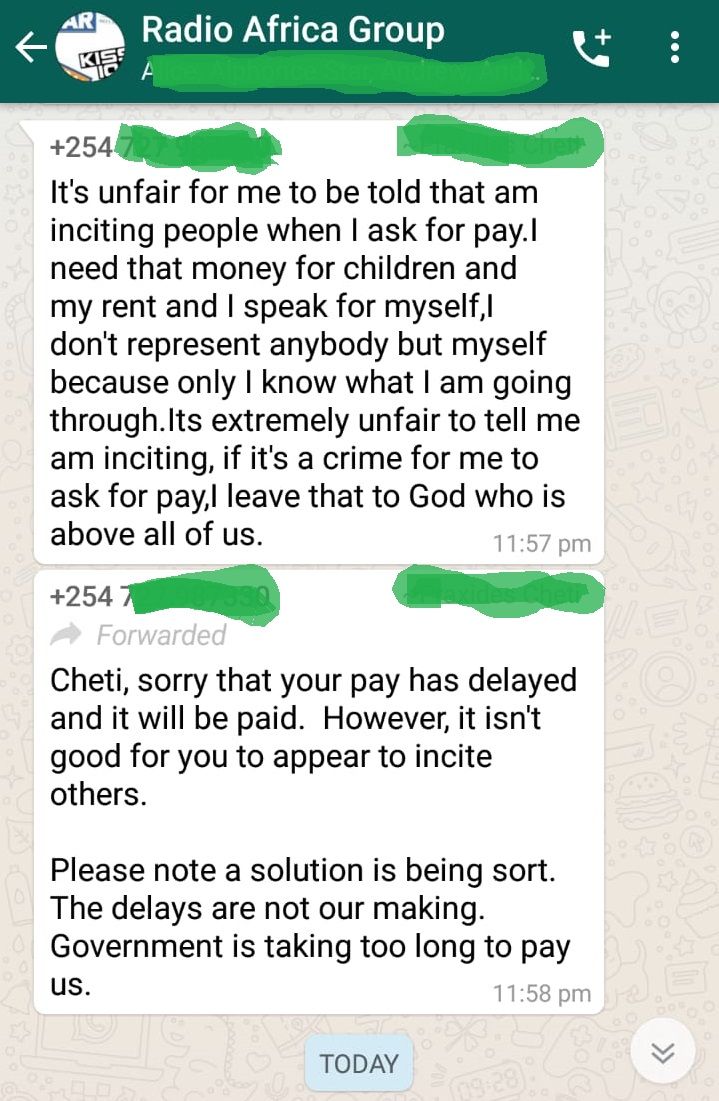 The editor explains that the financial problems have been caused by delayed payments by the government for advertising. The government, through the Government Advertising Agency (GAA), owes media houses billions in advertising money but has lately begun clearing the outstanding amounts.
To suppress protests one of the Whatsapp group admins removed some of the journalists protesting from the forum, including the lady journalist accused of inciting others.
It is understood that some correspondents haven't been paid since November, which leaves them vulnerable to news sources and subjects.
Even with the salary woes, Radio Africa is organising a staff party estimated to cost Ksh4 million. It is not clear what the company will be celebrating, given that it just had a team building recently. The management says the party is mandatory and those who miss will have Ksh9,000 deducted from their pay!
[ NEXT: Why A students end up working for the D and C students ]