Demonetisation is simply the retirement of old money so that newly printed money can replace them and this is not the first time Kenya is demonetising its currency.
When retired president Daniel Arap Moi took the reins of power, the president Jomo Kenyatta portrait currencies were gradually replaced.
READ ALSO: Governor Sonko claims police officer behind nightclub brawl that left daughter Saumu, Lamu senator injured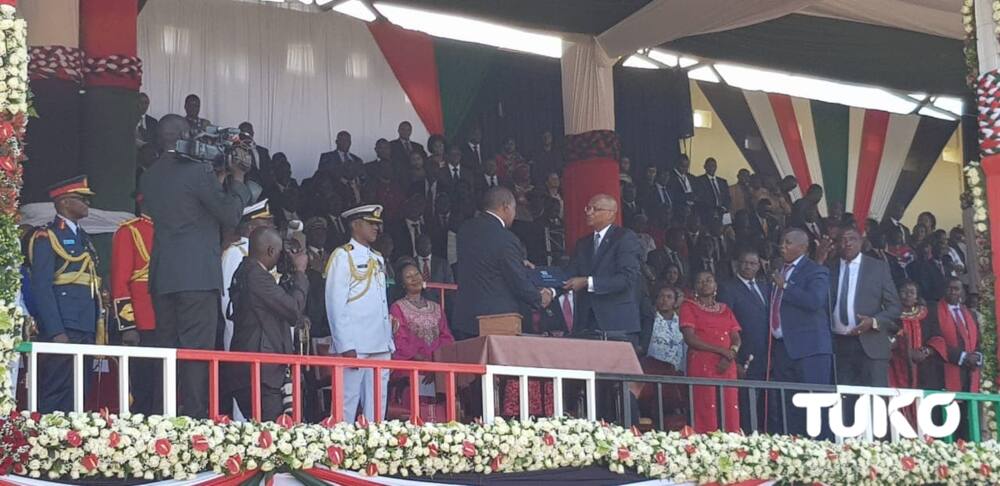 READ ALSO: Mary Kilobi amwandalia Atwoli 'Birth Day' ya kukata na shoka, ammiminia mabusu ya kutosha
When retired President Mwai Kibaki took power in 2002, he also gradually replaced Moi's portrait currencies with the late Kenyatta's portrait notes.
What is special with 2019 demonetisation? Under President Uhuru Kenyatta, the KSh 1,000 currency note is being retired with a time frame of October 1, 2019, ostensibly to fight fake money, money acquired through corruption, fraud or other illegal means.
Besides, anyone with more than KSh 1 million is required to disclose the source of the money. This is the crux of the matter.
Anyone with KSh 1,000 note has no reason to worry, as it will be exchanged for new currency without any questions. Besides, anyone with legitimate wealth can explain the source of their wealth, and therefore would not hesitate to return old money for new currency.
The KSh 1,000 currency note is still legal tender until then when it will cease to be so.
So mwananchi with such notes should not panic but spend his hard earned money as if there is no deadline so long as by the gazette date, he has no such old notes in his wallet.
In any case, with the new notes in circulation, it is expected that most traders and banks will accept old money but give change in new money so that the old currency is withdrawn smoothly.
Besides, even the folks who keep money under the mattress have no reason to worry.
Question is how much?
Anything below KSh 1 million ans is legitimately acquired will be replaced.
In any case, explanations are required for exchange of a million Kenya shillings and above.
With a country whose poverty level is so high, how many citizens do informal banking under the mattress. The numbers should not be worrying.
The government has been announcing on radio and TV about the withdrawal of the old currency notes and therefore even the conservative senior citizens will not risk their money being worthless paper.
None will lose their hard earned money. There also exists the possibility the court might decree no deadline for return of currencies but gradual withdrawal.
Kenya has a population of 49 million people according to the 1999 national census. The question is, what percentage has ill-gotten wealth.
It must be senior government officials, parastatal heads, senior county officials, drug traffickers or generally money launderers.
Would senior national government and county government officials be taken by surprise with such announcement? Hardly. This group is savvy!
This small group cannot hoard money to the extent the contraction in money supply has an impact on the economy. The Central Bank of Kenya would be alarmed if there was a serious contraction in money supply.
The fixation with the new note is misplaced. The idea that the note has to be exchanged with a new one is baseless too.
Savvy Kenyans will exchange the old notes with smaller, old currency notes which have no deadline for withdrawal.
Consequently, the distribution of withdrawals will not be new KSh 1,000 for an old KSh 1,000 note.
There is also no guarantee that the ill-gotten money has not been exchanged for gold or is in stable currencies like the US Dollar or Sterling Pound. Again, there is no guarantee the money has not been invested in and outside the country.
Will the withdrawal be inflationary? Not at all because for every old note withdrawn, a new one will be given out.
It would only be inflationary if there was parallel old and new full stock in circulation at the same time.
Story by Noel Wandera, TUKO Correspondent.
Do you have a life-changing story you would like us to publish? Please reach us through [email protected] or WhatsApp: 0732482690 and Telegram: Tuko news.
Kartelo's Untold Story – TUKO TV
Source: Tuko